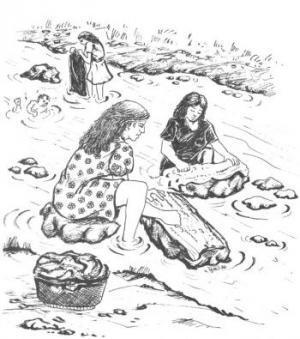 A1: Apa jamanna to baine inde' Duri?
B1: Buda rupanna, mannasu, mamosok, sangganna to jama-jaman jio bola baine ngasanra.
A2: Te'daraka namangbara'bah to baine?
B2: Jama-jamannara to muane to mangbara'bah sola pariu.
A3: Apara disanga "pariu"?
B3: Ia to disanga pariu, ia to mantanan pare jio uma, disanga too mangnguma.
A4: Jio mandaraka bola jamanna to baine?
B4: Te'da ia, sanga, ia namangkamo to muane tumorak na uranmo, malemi to baine ntanannii utan-utan, dalle, kandoa', bue.
A5: Inda to male pasa'?
B5: Ia to inde' Duri biasanna bainera to male pasa'. Iana te'da wattunna to baine male pasa', muanena male pasa', susinnamo indona Juhani.
A6: Indara nnampai pea inde'?
B6: Bainera mangngampa pea. Iara ke denni naola to baine, muanena mangngampa pea.
A7: Denraka jama-jaman baine najama to muane?
B7: Te'da jama-jamanna to baine najama to muane, sanga pada mpunnai jama-jaman.