You are here
Studying Duri I (4)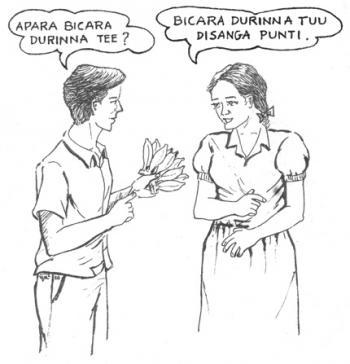 English
Bahasa Duri

Studying Duri I

A1: What is your name?

B1: My name is Nur.

A2: I would like to study the Duri language.

B2: Good. Shall we start now?

A3: What is this called in Duri?

B3: That is called 'a banana' in Duri.

A4: What is this?

B4: This is called 'a chair'. Are you already fluent in Duri?

A5: I know a little.

Melajah bicara duri I

A1: Indara sanganta'?

B1: Disangana' Nur.

A2: Melohna' melajah bicara Duri.

B2: Ie', ke madoangki' melajah.

A3: Apara bicara Durinna tee?

B3: Bicara Durinna tuu disanga punti.

A4: Apa tee?

B4: Disanga kadera. Maccamiriki'ka mangbicara Duri?

A5: Denmo kuissen ci'di'.