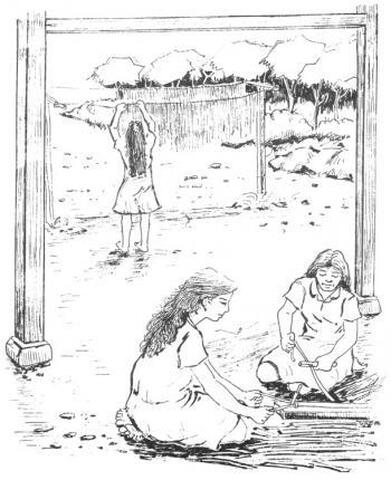 A1: Budaraka pondan inde'?
B1: Ie', buda ia. Duangrupa. Den to dikande, den too to te'da nadikande. Ia to dikande kembua, ia to te'da nadikande, anggennara daunna.
A2: Dikabua' apara to pondan te'da nadikande?
B2: Dikabua'i ulang tannun. Apa ia to tojolo nakabua' ade'na dodo.
A3: Matumbara ke dikabua'i ulang?
B3: Ia to dikabua' ulang, ia to daun malollo'na. Dialai na dibaa lako bola, namane' dikarrukdikua namessun bannangna.
A4: Matumbara ke mangkarruk pondanki'?
B4: Iake mangkarruk pondan, dii'ba'-i'ba' sibiccu'i to daun pondan namane' dipatamakajaoh to dii'ba', mane' dirui'. Apa makattik to lima ke nakannai.
A5: Dipatumbami ke mangkai dikarruk?
B5: Dialloi jolo' joo bannangna. Iana makasemo diananmi na menjaji ulang tannun.  Iamo nadisanga ulang tannun. Anggemi. Malemira dibaluk lako pasa'.
A6: Sipirang da'para to simesa' ulang?
B6: Sipatang da'pa.
A7: Sipirara allinna to simesa' ulang?
B7: Sikaruapulona ruppia. Na gaja bo'jo'ki' ngkabua'i namane' jaji simesa' ulang.