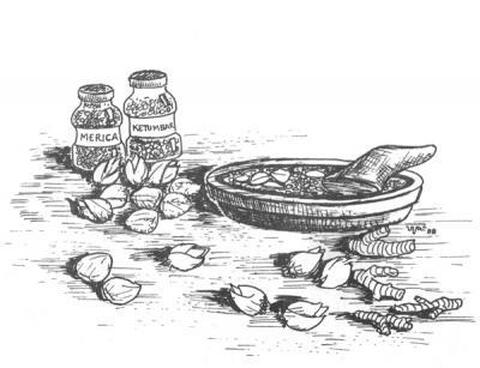 A1: Nasu apa sanganna tuu?
B1: Disanga nasu cemba.
A2: Matumbara ke dikabua'i?
B2: Dipasusi tee:
1. Ia to dipake: juku' tedong ia'rika juku' sapin.
2. Ia to dipalakoanni: lengkuah, sarre, panah, lessuna pute, lessuna lea, lessuna darong, katumbar ci'di', daun salam sanglambah, pamba'te kaluku, daun cemba sola kaindi' ci'di'.
Ia ke dinasumi dipasusi tee:
Diirahhi to tedong mane' ditu'tuk bumbunna.
Ia to ditu'tuk: ramica, katumbar, lessuna pute, lessuna lea, panah, kaindi' sola kunyi'.
Ia to te'da naditu'tuk: lengkuah, sarre, lessuna darong, daun cemba.
Iana puramo ditu'tuk, ditumisi'mi namane' dipasirau ngasan, namane' dinasu angge maluo. Iana maluomo ditumisitanmi lessuna lea ci'di' namane' diangka'i na dikande.