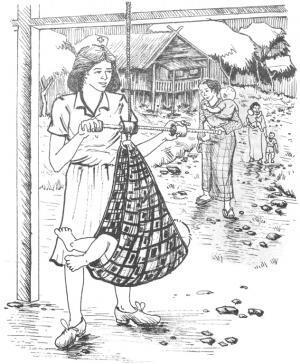 Bahasa Duri

Mangtimbang pea

A1: Umbora dipangngujui?
B1: Malena' mpangpetimbanganni tee pea.
A2: Malagah-lagah unaraka tuu pea?
B2: Malagah-lagah una ia.
A3: Pirara timbanganna tuu pea?
B3: Te'da kuissenni kua pira timbanganna tee pea. Lima kilo kapang.
A4: Sipempiranra to suster ratu mangtimbang lan sangbulanna?
B4: Pempissenra sangbulan.
A5: Apara sakinna to pea inde'?
B5: Biasa mapa'dik ba'tangna. Budami rupanna sakinna.

     

English

Menimbang anak

A1: Where are you going, ma'am?
B1: I'm going to weigh my child.
A2: Is your child heathy?
B2: He's fine.
A3: How much does he weigh?
B3: I don't know how much he weighs, may be five kilograms.
A4: How many times does the nurse come to weight children each month?
B4: Only once a month.
A5: What illnesses do children usually get here?
B5: Stomach aches, and other types of illnesses.