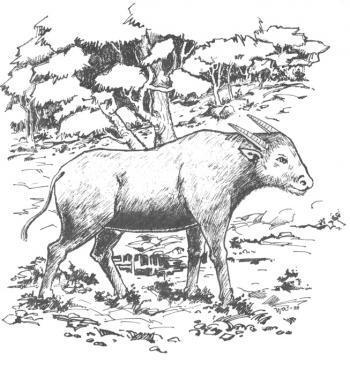 Bahasa Duri

Tedong malillin

A1: Budaraka tedong malillin inde'?
B1: Ie', buda jio buntu Latimojong, apa malaira.
A2: Matumbara ke dijokkoi?
B2: Dipaula'i asu.
A3: Matumbara ke dibunoi?
B3: Iana dibuno, didokei ia'rika dibaka'i.
A4: Apara dikabua' doke?
B4: Ia to dikabua' doke kajaoh ia'rika bassi. Dipetarannii cappa'na ke ngkabua' doke.
A5: Indara macca ngkabua' doke?
B5: Buda tau macca ngkabua' doke ntee mai.
A6: Matumbara joo tedong malillin?
B6: Susi to beke apa malotong ngasan bulunna pada bang to bai.
A7: Susiraka to tanduk tedong to tandukkuna?
B7: Te'da. Ia to tanduk tedong malillin tuo lako boko'na na gaja taran, apa ia to tanduk tedong tuo lako sa'dena na te'da namataran gaja.
A8: Ciapari namataran tandukkuna to tedong malillin?
B8: Ia ade'na namataran to tanduk tedong malillin, sanga tuli nasangehhi jio batang kaju.

     

English

Anoa

A1: Are there many "anoa" (dwarf buffalo) here?
B1: Yes! There are many on Mount Latimojong, but they are wild.
A2: How are they caught?
B2: They are hunted with dogs.
A3: How are they killed?
B3: They are speared, or stoned.
A4: What are the spears made from?
B4: Spears are made from bamboo or iron, with pointed tips.
A5: Who is skillful at making spears?
B5: Many people are skillful at making spears here.
A6: What does an anoa look like?
B6: Like a goat but its hair is all black like a pigs.
A7: Are its horns like a water buffalo's horns?
B7: No, because the anoa's horns grow to the back and are very sharp, but water buffalo horns grow to the sides and are not too sharp.
A8: Why is it that the anoa's horns are very sharp?
B8: People say that the anoa's horns are very sharp, because they are always sharpened on trees.