You are here
When Somebody Dies (49)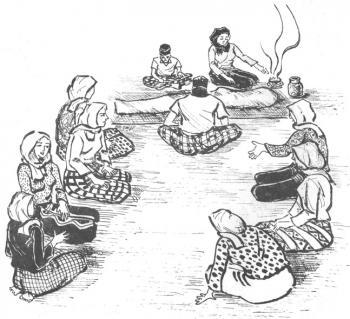 English
Bahasa Duri

When Somebody Dies

A1: How many nights do you wait before you slaughter a goat when someone dies in Duri?

B1: For an adult, nineteen nights, but for children, only nine nights.

A2: Are chickens also slaughtered?

B2: After seven nights, chickens may also be slaughtered, until the forty-first night. It's called the "feast of the seventh day". The seventh-day feast is held three times before reaching the forty-first night. On the forty-first night chickens are slaughtered again. It is called "discharging someone".

A3: Do many people come on the nineteenth night?

B3: Yes, many. They come to eat goat and carabao meat.

A4: How long until a goat is slaughtered?

B4: When it's the appropriate time, a goat is slaughtered. The following day if there are carabao they are laughtered, too.

Masara tomate

A1: Sipirang bongira nadikandean beke to tomate inde' Duri?

B1: Iana tomatua sisangpulo kasera bonginna. Iara ke pea sikasera bonginna.

A2: Digeretan tooraka manuk?

B2: Ia ke pitung bongimi digeretan toomi manuk, angge patangpulo mesa bonginna. Disanga to mangpitu. Sipentallun mangpitu namane' ra'pah ke nadete'mi patangpulo mesa bonginna. Ia ke patangpulomi mesa bonginna digeretan toomi manuk. Disanga mangpalao.

A3: Budaraka tau ratu ke sangpulo kaserai bonginna?

B3: Buda. Sanga ratu ngkande beke ia'rika tedong.

A4: Piranra nadigere' to beke?

B4: Ia nadete'mi allona digere'mi to beke. Makale'na, naden tedong, digere' toomi.