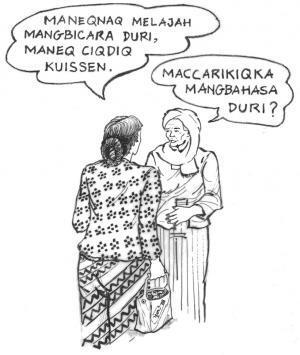 Bahasa Duri

Melajah bicara duri III

A1: Umbora tanii torro?
B1: Jiona' Panyura'.
A2: Maccariki'ka mangbicara Duri?
B2: Mane'na' melajah mangbicara Duri, mane' ci'di' kuissen.
A3: Masai unapiriki'ka torro inde'?
B3: Mangtaunanpa' la torro.
A4: Kita' mandaraka torro inde'?
B4: Te'da, solana' muaneku' sola anakku'.

     

English

Studying Duri III

A1: Where do you live, ma'am?
B1: I live in Panyurak.
A2: Do you already know the Duri language?
B2: I'm just learning to speak the Duri language, I know just a little.
A3: How much longer will you be here?
B3: A few more years.
A4: Are you living here alone?
B4: No, I live with my husband and my children.