You are here
Proposing (46)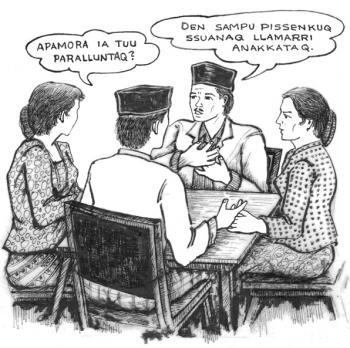 English
Bahasa Duri

Proposing

A1: Why have you come in a procession just now?

B1: We ahve a need.

A2: What do you need?

B2: I have a first cousin, who has sent me to propose tp your child on his behalf.

A3: Who is your first cousin?

B3: The one who works at the police office.

A4: First I'll ask my child if she is willing or not.

B4: If your child is willing, how much money will we need to raise?

A5: If she is willing, the bride-price won't be a problem.

B5: Certainly! We will come again at another time if there are no obstacles.

Tolantuk

A1: Anna mane' angga taratu situru'-turu'?

B1: Den kami' tee parallungki'.

A2: Apamora ia tuu parallunta'?

B2: Den sampu pissenku' ssuana' mpangkadananni anakkata'.

A3: Umbonnara ia joo sampu pissenta'?

B3: Ia tomangjama jio kantoro' polisi.

A4: Kukutanaipi jolo' joo pea, melohraka ia'rika cia'i.

B4: Iake melohhi anakkata', pirara doi' la kipaendek?

A5: Iana meloh una ia, te'damo namangpasisala to dipaendek. Kukutanaipi jolo' naden mane' ratu pole' jio mai.

B5: Ie', piran-piranpa kiratu pole' ke te'dai saba'.