You are here
Pounding sugar (12)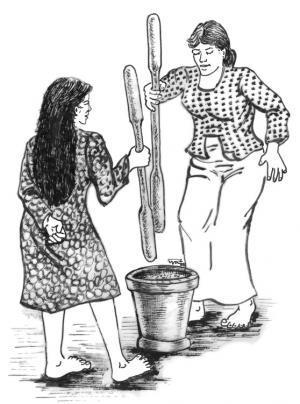 English
Bahasa Duri

Pounding sugar

A1: What are you doing?

B1: We are pounding sugar.

A2: What do you use to pound sugar?

B2: A mortar and pestle.

A3: What are you going to do with the pounded sugar?

B3: We are going to make butter cookies.

A4: Why are you making so many cookies?

B4: We are going to have a wedding feast.

Mangla'buk golla

A1: Mangngapariki'?

B1: Mangla'buk gollakan.

A2: Apara dipake ke mangla'buk gollaki'?

B2: Issong sola pealu.

A3: La dikabua' apara tuu golla nadila'buk?

B3: Dikabua' deppa mantega.

A4: Ciapari mimangkabua' gaja deppa?

B4: La mangpabottingkan.