You are here
Owl I (34)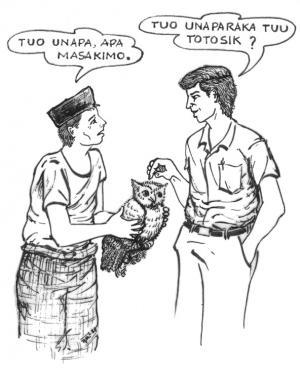 English
Bahasa Duri

Owl I

A1: What's the name of that bird?

B1: It's called an owl.

A2: Is that owl still alive?

B2: It's still living, but it is sick.

A3: Where did you catch it?

B3: In my garden.

A4: How did you catch it?

B4: I found it at the garden perched on top of a pole, then I caught it.

A5: It didn't fly when you grabbed it?

B5: No, because it was already sick.

A6: What are you goign to do with the owl?

B6: I don't have any use for it. Do you want to take it?

A7: Yes, give it to me and I'll take care of it. What does it usually eat?

B7: Mice, maybe. You can also give it coconut milk.

Totosik I

A1: Apara sanganna tuu manuk-manuk?

B1: Disanga totosik.

A2: Tuo unaparaka tuu totosik?

B2: Tuo unapa, apa masakimo.

A3: Umbora tanii nattai?

B3: Jio bara'bahku'.

A4: Tapatumbari tonna tajokkoi?

B4: Jio bangngi bara'bahku' mentadang jao tangke kaju kumane' njokkoi.

A5: Te'daraka namentia' tonna tajokkoi?

B5: Te'da, sanga masakii.

A6: La taapara tuu totosik?

B6: La diapora ia. Madoangriki'ka nnalai?

A7: Ie', bemmo' na kupiarai. Apara nakande tikianu'?

B7: Balao kapang. Wa'ding too diben wai kaluku.