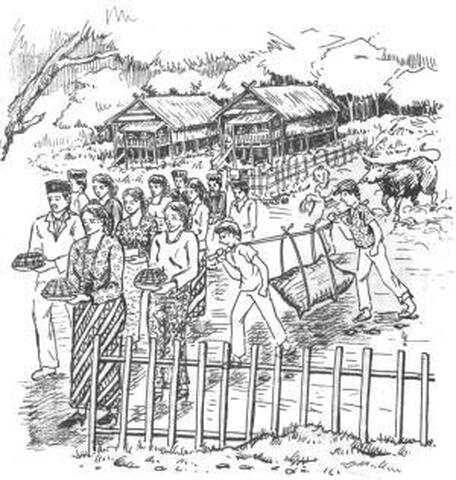 A1: Wa'dingraka ke kukutanaiki' to ada' to-Duri?
B1: Wa'ding una. Apara la tapekutanan?
A2: Matumbara ke mangpabottingngi to tau inde'?
B2: Iana la mangpabotting to tau inde' male jolo' dipangkadan to muane. Iana ditarimamo disuami mangpaendek.
A3: Apara disanga mangpaendek?
B3: Ia to disanga mangpaendek, ia to muane mbawa apa apa to dikande ke bottingngi.
A4: Apa unamora biasa napaendek to muane ke la bottingngi?
B4: Buda lalanna. Iana tosugih mbawa tedong, mbawa rido, mbawa doi', mbawa bulawan. Iana te'da nasugih biasa bekera digere', den too to manukra digere', den lalo uga'na to mangpalopo' bangra.
A5: Sipirara doi' napaendek to tau ke bottingngi?
B5: Buda rupanna. Den to sidua juta, den to simesa' juta, den to silimaratuh sa'bu, den too siduaratuhra sa'bu.