You are here
Living in Duri (7)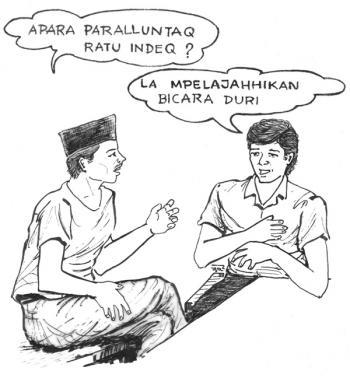 Bahasa Indonesia
Bahasa Duri

Living in Duri

A1: May we come here and talk with you for a while?

B1: Sure.

A2: Do you like living in our village?

B2: We like it a lot.

A3: What is the reason you have come here?

B3: To study the Duri language. We are going to make a Duri dictionary and grammar, and compile stories of the Duri people.

Torro inde' Duri

A1: Wa'ding unaraka ke ratukan inde' sipangkada-kadangki'?

B1: Wa'ding una ia.

A2: Takabudairaka torro inde' kampongki'?

B2: Kikabudai gaja.

A3: Apara parallunta' ratu inde'?

B3: La mpelajahhikan bicara Duri. La ngkabua'kan kamus bicara Duri, sola susunan bicara Duri, sola rrempunkan curita-curita to Duri.