You are here
Frying Bananas (29)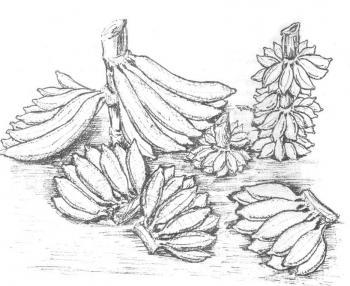 English
Bahasa Duri

Frying bananas

A1: What are you working on?

B1: I'm cooking rice an cutting up spinach.

A2: What were you doing a little while ago?

B2: I was frying bananas.

A3: What kind of bananas are usually used for frying?

B3: King bananas, kapok bananas, and long cooking bananas.

A4: Do kapok and long cooking bananas have the same shape?

B4: No. Kapok bananas are short but very good for making fried bananas in the morning, because it is a medicine for the stomach if you haven't eaten breakfast.

A5: Do kapok and long cooking bananas taste different?

B5: Yes, because the kapok bananas are rather sour if they are very ripe, while long cooking bananas are sweet and rather firm as well.

Mantanan sikola'

A1: Mangngapariki' mamana Rusna?

B1: Mannasuna' sola mangpejo-pejo utan rara'na'.

A2: Apara pale' tapugauk nena'?

B2: Massanggara' puntina'.

A3: Punti apara biasa disanggara'?

B3: Punti panasa, punti manurun, na punti tanduk.

 

A4: Susiraka rupanna to punti manurun na punti tanduk?

B4: Te'da. Ia to punti manurun bondi' ia, apa gaja kassing disanggara' ke makale'i, sanga pejampi mah te'dapi apa dikande.

 

A5: Laenraka kandena to punti manurun na punti tanduk?

B5: Silaenan kandena. Sanga ia to punti manurun macukka-cukka iake matasak gajai. Ia to punti tanduk macanning ia, namaki'ding too.