You are here
Fasting Month (38)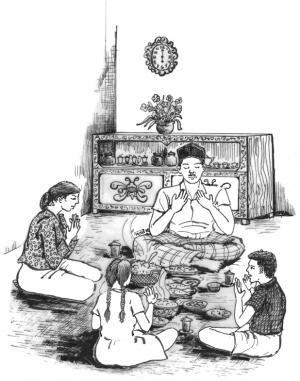 English
Bahasa Duri

Fasting Month

A1: Which month is the fasting month?

B1: The fasting month is the ninth month of the islamic year, called Ramadan.

A2: In which month does the fasting month begin this year?

B2: In April, on the twenty-ninth.

A3: Do all Muslims fast?

B3: There are some who fast, and there are some who don't.

A4: Why are there some people who don't fast?

B4: Those who don't fast are children, very old people, or sick people who aren't strong enough to fast.

A5: How many hours do people fast?

B6: Usually people fast from the pre-dawn meal at 4:30 a.m., and they break it at 6 p.m.

Bulan puasa

A1: Bulan pirara to bulan puasa?

B1: Ia to bulan puasa, bulan kasera. Ia to tosallang nasangai bulan Ramadan.

A2: Bulan pirara tee taun namentama to bulan puasa?

B2: Bulan a'pa' tanggala' duangpulo kasera.

A3: Mangpuasa ngasanraka to tosallang?

B3: Den to mangpuasa, den too to te'da.

A4: Ciapari naden to te'da namangpuasa?

B4: Ia to te'da namangpuasa, ia to pea biccu', ia'rika ia to tomatua gajamo, ia'rika ia to masaki na tangnakulle puasa.

A5: Sipirang jangra to tau puasa?

B5: Biasanna ia to tau puasa, kumande subuh ke tatte' sitangngana lima na buka ke tatte' annan.