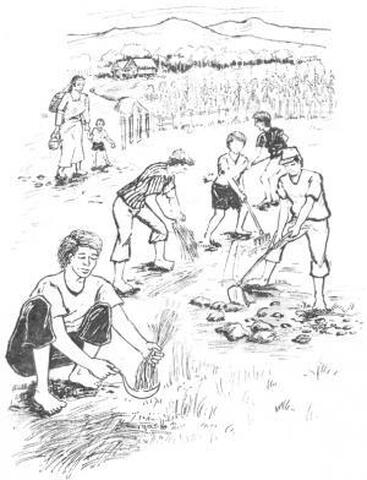 A1: Umboki' pole' indo'?
B1: Polena' parundun.
A2: Umbora tani parundun?
B2: Jio bara'bah.
A3: Ciapari naden parundun?
B3: Mangbuahhi to tau jio bara'bah, jaji diparundunra.
A4: Apara tabawa ke parundunki'?
B4: Baro'bo dalle sola nasu kandoa'.
A5: Indara mangbuah jio bara'bah?
B5: Pangkombong.
A6: Apara disanga pangkombong?
B6: Ia to disanga pangkombong ia to tau sibali-bali'i ke mangjama bara'bahhi sisulle-sulle sibali'i.
A7: Sipirara tau ke mangkombong?
B7: Te'da natatta'. Biasa sia'pa', silima, siannan, sipitu, sikarua, buda rupanna.