You are here
Buying Papaya (26)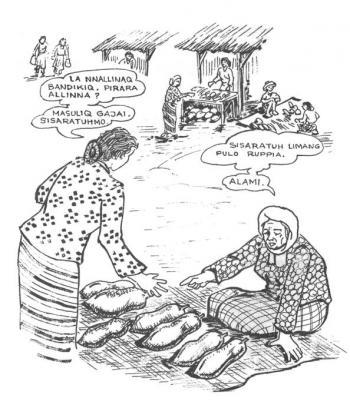 Bahasa Indonesia
Bahasa Duri

Buying papaya

A1: I want to buy some papaya. How much are they?

B1: 150 Rupiahs each.

A2: That's too expensive. How about 100 Rupiahs.

B2: Okay.

A3: I would also like to buy some bananas.

B4: I don't have any bananas to sell.

A5: Oh, that's okay.

Mangngalli bandiki'

A1: La nnallina' bandiki'. Sipirara allinna? 

B1: Sisaratuh limangpulo ruppia. 

A2: Masuli' gajai. Sisaratuhmo.  

B2: Alami. 

A3: La nnalli toona' punti tanduk. 

B3: Te'da kubaluk. 

A4: Te'da naciapa.