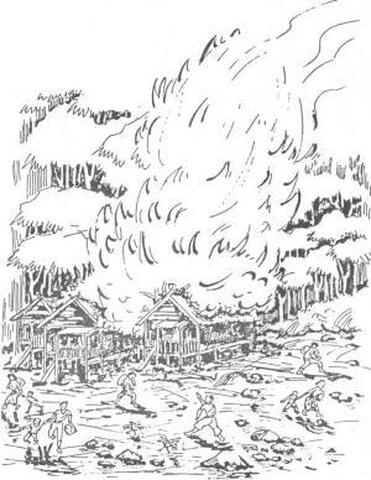 A1: Mangngapari to tau ntuu joo?
B1: Manyumpunni.
A2: Ciapari nasumpunni tau tuu joo buntu Koda'?
B2: Mbai sumpunni randan bara'bahna namangngulala', iarika dikua namalollo' pole' to reu la nakande barangapa, iarika dikua nadanggi' najio bang to bai membuni. 
A3: Bisaraka joo api bosi bang dau?
B3: Bisa.
A4: Te'daraka apa nakande joo api ke mangngulala' bangngi mabela?
B4: Iana den bola sikandoppi' alla' reu iamo nakande.
A5: Denmoraka bola nakande api jio randan alah?
B5: Denmo tonna tee namanyumpun to tau na ngkande bola annan.
A6: Te'daraka nadibosian joo api tonna tee tonna ngkande bola?
B6: Dibosian ia apa tangnatananni to tau mbosianni.