You are here
August 17 (39)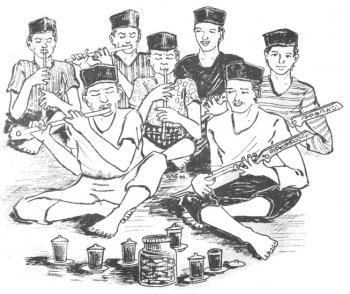 English
Bahasa Duri

August 17

A1: Aren't you going to see what's happening in Baraka?

B1: We are going to, but in a little while.

A2: What is there to see in Baraka?

B2: Singers.

A3: Where are those singers from?

B3: They are from Kalimbua.

A4: Why are they coming here to sing?

B4:They are coming to sing because the people are having a festive gathering.

A5: What do you mean by a "festive gathering"?

B5: This festive gathering is a commemoration of independence day, August seventeeth.

A6: What kind of fun activities will people take part in?

B6: All kinds of games. There's soccer, volleyball, softball, pingpong, walking races, and in the evening there are people singing, dancing, playing bamboo flutes, and playing lutes.

17 Agustus

A1: Te'da mumale menonton sun Baraka?

B1: Malekan tee too, apa doppari.

A2: Apara ditonton jio Baraka?

B2: Tomakkelong.

A3: To umbora jo pakkelong?

B3: To-Kalimbua.

A4: Ciapari naratu inde' to tau makkelong?

B4: Ratui makkelong sanga mangrame-ramei to tau.

A5: Apara disanga mangrame-rame?

B5: Ia to disanga mangrame-rame mperingatii hari Kemerdekaan 17 Agustus.

A6: Apa unamora napaningoan to tau ke mangrame-ramei?

B6: Buda rupanna paningoan. Den manggolo', den mangpolli, den mangkasti, den mangpimpong, den mangbarisi'. Iake bongii den tomakkelong, menari', mangbas, manggalesu.